Building Explosive Core Strength and Rotational Power for Lacrosse Players: Part II
If you haven't yet read part I of this series I would encourage you to first check it out HERE. 
The exercises and principles in part I set the foundation from which lacrosse players can start to implement more sport specific exercises to further enhance their rotational strength and power. This is how we establish a great base to build our athletes from at TOP Fitness.
Once the lacrosse player has demonstrated their ability to control their spine and hip position from more basic positions such as with planks, birddogs and dead bugs (part 1), it is now time to challenge their ability to control them through various positions.
First getting into more sport specific positions, positions that transfer more to sprinting and running are the next step. Doing so while completing diagonal patterns help to more closely mimic the forces they will experience and produce when shooting for example. 
The following two exercises are great to teach the lacrosse player to control their position when one hip is flexed and one is extended as it is when they are sprinting, as well as when they have a force coming across their body as when shooting.
1/2 Kneel Chops
Starting in the 1/2 kneeling position allows the athlete to better understand what he/she is looking for in this position. 
This diagonal chopping pattern also more closely resembles the angle of shooting. 
2) Split Stance Chops
The split stance position further challenges the athlete to control position as they now lose a contact point with the ground. 
This position is directly related to that of a sprinting or running pattern, and also continues to utilize the diagonal pattern as with a shot. 
Once the athlete demonstrates that they can control the position and rotational forces during the previous exercises we can now work into producing rotation!
3) Rotational Cable Chops  w. Cook Bar
Optimal rotation for lacrosse players starts with the lower body and is transferred through the core, and finishes with the upper body. 
The rotational cable chops simulates the sequence that must occur to optimally produce rotation from a more controlled stance. 
4) Rotational Cable Chops w/ Step (emphasize hip separation)
Now comes the more specific rotational pattern, directly mimicking the sequence that occurs with a shot. 
This exercise allows the athletes to utilize the previous strength and control work and now exploit it to produce specific rotation. 
This is also where the lacrosse player can emphasize what is known as hip separation, or the ability to generate power from the lower body, transfer it through the core and finish with the upper body in a "sling shot" fashion. 
Perfecting hip separation is key as it creates an "elastic band" effect that allows the athlete to produce the most explosive rotational power possible. 
Coming Up in Part III: The "Fun" Stuff
With the work that was completed in the first two phases of creating explosive core strength and rotational power, the lacrosse player is now ready to implement the "fun" stuff.
The last phase more specifically trains the hip separation and elastic effect that will allow the athlete to produce the most rotational power possible through more explosive actions with cable work that is even more specific to shot positions, as well as with med ball throws. 
The last part of this series will also touch upon the other factors that lacrosse players need to train in order to develop maximal core strength and rotational power and be able to use it on the field. 
Building Explosive Core Strength and Rotational Power for Lacrosse Players: Part 1
**Please note, while this article series relates to lacrosse, all athletes can follow this sequence to achieve greater performance and injury prevention…now lets get to it!
At TOP Fitness we work with a  lot of lacrosse players, so naturally we are focused on helping our athletes build the qualities most crucial for their success in lacrosse.  
One of the most important athletic qualities for lacrosse players is their ability to generate explosive rotational power.
When an athlete has greater rotational power, not only will they be able to sprint faster, change directions quicker and react more effectively, but they will be able to rip off a high speed shot that will be tough to stop…and there will always be a spot for this athlete on the field!
So building explosive rotational power should be a goal of any lacrosse player who is looking to achieve the greatest amount of success in sport.
Explosive rotational power can only occur when an athlete is first stronger and more explosive through their core.
Being stronger and more explosive through the core provides a solid base to transfer force from the legs through the upper body, which allows for the improvements in the athletic qualities mentioned, as well as decreases the chance of injury. 
The explosive strength we are talking about is not achieved through thousands upon thousands of crunches, Russian twists, or hours worth of plank holds (although planks will play a role).
The type of explosive strength necessary to be the greatest lacrosse player possible is multifaceted.
It is achieved through a specific sequence of concepts and exercises that are layered on top of each other, to optimally build and express the explosive strength, as well as keep the athlete healthy and resilient.
How to Build Explosive Core Strength and Rotational Power: The Sequence  
First, the cores primary responsibility and action is to stabilize the hips and spine and transfer force throughout the body.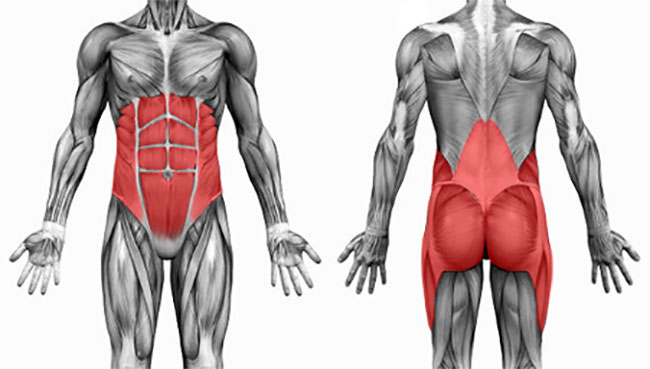 Stability is an ambiguous term for many of us. The simplest way to think about stability when it comes to movement and performance is the ability to resist change from an optimal position.
This is especially key when it comes to the hips and spine because it is through the hips and spine that the lower body is connected to the upper body. When their positioning is solid, energy can be created and transferred throughout the body. 
If your goals include accelerating the fastest, cutting the quickest, jumping the highest, rotating with the most speed, etc. it is critical to have hips and a spine that are in a solid position at all times.
Therefore, the first consideration when training for explosive core strength is to solidify the position of the hips and spine, especially when the arms and legs are moving.
Exercises to Solidify Hip and Spine Position: Your Base for Explosive Core Strength
Static Plank
The first exercises to execute and progress are the static plank positions. 
Planks help to build the isometric strength in the core necessary to stabilize the hips and spine. But like anything else, they must be performed correctly!
Too often a plank is performed with sagging and/or rotated hips, a rounded upper back and a head that is protruding way out in front of the body and almost contacting the floor.
Instead think about keeping the hips from sagging down and rotating forward (you can envision pulling your zipper up towards your ribcage), and keeping your spine as long as you can from the tip of your tail bone through the top of your head.
Hold the position for 15-30 seconds and repeat 2-3 times.
2) Static Side Plank
Side planks, just like the regular plank, build isometric strength. This time the target is the lateral (or side) core and hip musculature. 
Also like the regular plank, you want to keep the hips from sagging or rotating as you envision keeping your zipper up towards your ribcage to prevent the low back from excessively arching. And keep the same thought of staying long from your tailbone to the tip of your head.
Hold each side for 10-20 seconds.
3) Deadbug
The deadbug is used to help you understand how to work around a fixed core (as well as its many variations). The goal is to keep the back flat to the floor, and the hips from rotating as the opposite arm and leg reach out long.
This now takes a static strengthening exercise like the planks and challenges the athlete to keep the same optimal core position while the arms and legs are moving as they will be when on the feet playing lacrosse. 
Try performing 2-3 sets of 6-8 reps per side.
4) Birddog
Flip the deadbug and you have the birddog. This exercise is more difficult to keep the core, spine and hips solid as the arms and legs extend as you are now working against gravity. 
The action at the legs is especially key because this is the same action as sprinting (hip extension) and if the hips rotate forward and low back arches when this happens, not only will the athlete lose power, but they will also be at a greater risk for injury.
Part II is Next!
The concept of keeping the core stable is only the beginning to building explosive core strength and rotational power for our lacrosse players (and all rotational athletes). 
The next step is to challenge this stability with more complex positions that are specific to sport. 
In part two we will cover how we can further challenge the lacrosse athlete to stabilize their body and optimally transfer power from the lower body to the upper body. 
Carb Cycling: Eat What You Want, Build Muscle and Lose Fat…What?!!
Carbohydrates have received a lot of attention over the past decade, and for good reason.
Carbohydrates, especially those that are refined and overly processed, have become a staple in the American diet. And hell, why not?
They taste good, are easily accessible and they make you feel good when you eat them (at least initially).
The problem becomes when your nutritional intake is heavily biased towards these carbohydrates.
When this happens you have a greater chance of becoming insulin resistant, you flirt with diabetes, you are likely to gain excess body insulation (fat!) and your overall health and performance is likely going to plummet.
So of course the solution is to remove these from your diet…right?
Well, if you told me that I could not have pasta, rice, cereal, bread, cookies, hamburger buns or the occasional extra frosted, gooey glazed, cavity causing donut, I would politely ask you to take your suggestion and shove it between your left and right gluteus maximus.
I, as anyone else who is human and enjoys life, like to eat carbohydrates.
But, I also know that the negative consequences of eating these on the reg is going to destroy my health and performance goals, and make me look more like the pillsbury dough boy than Leonidas.
So, I say no to them…
JUST KIDDING!
Restricting yourself from these pleasures in life not only a terrible way to walk around on this earth, but it will likely lead to the occasional binge, which is just a vicious cycle.
You restrict, you binge and then you feel defeated.
You restrict again, binge again, tell yourself you are a loser once again, rinse and repeat.
This not only leads to a miserable psychological state, but it will lead to the same negative physical and overall health consequences as when you are eating them on the reg.
So what can you do??
Use carbohydrate cycling.
What is carbohydrate cycling?
Carbohydrate cycling (carb cycling) is most easily defined as cycling through days where you have a higher carb intake and days where you have a lower carb intake.
What this does is it allows you to have some of those carbs that you want and love, while giving you days without them to drop overall calories, help you increase insulin sensitivity, and keep your health and performance on the right track.
I have found the best way to do so is to match your higher carb days with your higher physically demanding days (when you train, have a competition, etc.).
Your body is in a physiological state where it is more primed to use the carbohydrates for energy and restoration. The body is ready to "soak them up" which prevents you from storing them as fat.
Then on the days when you are not training or exerting at an intense level, back off on the carbs as your body does not need them as much for energy and recuperation.
This also helps prevent taking in to many calories and it helps keep you from becoming desensitized to the insulin response (which happens when blood sugar is constantly elevated from consistent carbohydrate consumption, and is no good!).
Throughout both higher and lower carb days you will keep your protein and fat intake relatively constant to ensure adequate nutrients for health and muscle growth.
A Few Examples
Breakfast
High Carb Day Option 1: 1 cup oatmeal, 1/2 banana, 1/4 cup berries, 1 scoop protein powder, cinnamon and nutmeg to taste (cook oatmeal and stir in the other ingredients to it).
High Carb Day Option 2: 2-3 eggs, 1-2 slices of Ezekiel bread, 1 slice cheese, 1 banana (make an egg sandwich, or open faced sandwich and have a banana on the side).
Low carb day Option 1: Shake: Add 8oz of almond milk, 1 handful spinach, 1 cup frozen berries, 1 tbsp peanut butter, 1 scoop protein, cinnamon and nutmeg to taste to blender and blend to desired thickness.
*Low Carb Day Option 2: 1 cup chopped veggies (whatever you want), 1 thin slice ham, 2-3 eggs, small amount of cheese, 10 baby carrots (make an omelet and have carrots on the side).
*To make this a higher carb option you could also have a side of potatoes or slice of Ezekiel bread for example
Lunch
High Carb Day Option 1: Turkey Sandwich / Wrap and Apple with a little desert: construct a turkey sandwich or wrap and have an apple as a side and have a small amount of desert (this is where I usually have a small cookie, piece of a muffin of anything else I want…but it is small!)
High Carb Day Option 2: Stir Fry with Rice with a little desert: Cook your your favorite veggies and fruit with a protein of choice (chicken, steak, shrimp, etc.), add 1 cup of rice and some soy sauce and enjoy with a small desert.
Low Carb Day Option 1: Protein and salad: Construct a salad with your favorite veggies, a little dressing, a sprinkle of cheese and top with a protein of choice.
Low Carb Day Option 2: Grilled/Baked Protein with a vegetable side: Grill or bake a protein of choice and enjoy with a side of broccoli, green beans, carrots, etc.
Dinner
High Carb Day Option 1: Pasta, Veggies and Protein: Similar to the stir fry, cook up your favorite veggies and protein, add a small amount of sauce of choice (try to stay away from the processed, fatty cream sauces) and place it on top of a bed of pasta.
High Carb Day Option 2: Grilled/Baked Protein with a baked potato and veggie side: Grill or bake your favorite protein and enjoy it with a baked potato and a side of veggies!
Low Carb Day Option 1: Grilled/Baked Protein with a veggie side: A piece of fish with asparagus for example.
Low Carb Day Option 2: Bunless cheeseburger with a side of mixed veggies.
Really the options are endless when it comes to constructing your high and low carb days. The thing to remember is that a low carb meal eliminates the bread, rice, grains, pasta, etc. and replaces them with low carb options such as veggies.
Will this approach work for everyone with every goal??
I would never say that something will work for everyone, especially with every goal.
What I will say though is that carb cycling can be tailored to better achieve certain goals, and in my experience it works very well for the majority of people.
With various goals there are slightly different modifications with carb cycling that can maximize results.
Fat Loss
If you are looking for fat loss, during your high carb days, only your meal following intense physical exertion should be higher carb.
When you place an intense physical demand on the body, muscle glycogen (muscle sugar) is used for energy. Carbohydrates help restore muscle glycogen, and immediately following intense exertion your body is more primed to soak up these nutrients and store them as muscle glycogen.
With this, timing your high carbohydrate meal after this exertion helps guarantee that more of the carbohydrates go towards muscle glycogen replenishment rather that fat.
So I would encourage those seeking fat loss to have one higher carb meal during their high carb day, and this meal should be following the intense physical exertion. The rest of your meals should follow the lower carb template (protein and veggies without starchy carbs).
Maintenance
If you are seeking to maintain the amount of muscle to fat ratio you currently have, I suggest having two meals with a higher carb count during high carb days.
Again here I would suggest those meals being the two meals following intense physical exertion.
For the rest of your meals follow the low carb day template.
This helps to ensure that you are consuming enough carbs to maintain muscle mass, but not so much that you are going to accrue fat mass.
Mass Gain
If you are looking to gain weight (mainly muscle mass) you need to create a caloric surplus in order for your muscles to grow optimally.
Because of this goal I suggest having three meals per high carb day that have a higher carb count.
This helps to ensure that you are consuming enough carbohydrates and calories for continuous muscle growth.
Of course if you start to notice too much fat accumulation you will want to dial back the amount of carbs little by little.
**A side note: You may have days that I would consider moderate training and carb days, such as days when you are doing some intense conditioning such like sprints, prowler pushes or other high intensity interval work. I would suggest eating a moderate amount of carbs during your post training meal, no matter what your goals are.
Portion Size Still Matters!
While carb cycling is awesome as it allows you to consume some of your favorite foods throughout the week, this doesn't mean that you can go buck wild on high carb days / meals and expect an optimal result.
Portion size still matters, and when it comes to starchy carbs sticking to one to two cupped hand size portions for men, and one cupped hand size portion for women is key.
Sticking with these portion suggestions helps to maximize glycogen replenishment without going overboard and switching to fat accumulation.
Also, if you are going to have desert try to have only one to two bites…I know it sounds crazy but take your time chewing it, savor the flavor (<–like that one!) and then walk away!
And remember, we are talking about a normal sized bite, not a Hulk sized bite!
Get to Cycling
Hopefully by now I have convinced you that carbohydrate cycling is the easiest nutritional strategy to continue to eat the foods you love, prevent yourself from feeling deprived and maximizing your results from training as well as enhancing you overall performance.
It will not only result in the body composition shifts you want (more muscle and less fat), but it will drastically improve your psychological connection with food…you will not feel consistently deprived, depressed and angry as you will have the high carb days to mitigate the low carb days.
The keys to carb cycling are:
-Consume your higher carb days on the days your train or physically exert at a high level.
-Lower your carb intake on days you are not exerting physically by removing starchy carbs (rice, pasta, bread, etc.) and replace them with veggies.
-Keep your protein and fat consumption relatively constant each day.
-Stick to the carb portion control parameters of 1-2 cupped hand size servings for men and 1 cupped hand size serving for women.
Lastly, I thought it would be helpful to give you a look into how I am currently implementing carb cycling. At this point I am trying to maintain my muscle and fat ratio for the most part…if I gain some more muscle and lose some more fat I won't complain 🙂
Monday: Higher Carb and Training Day; Higher carb breakfast and lunch, lower carb dinner
Tuesday: Lower Carb and Moderate Training Day: Lower carb breakfast, higher carb lunch, lower carb dinner
Wednesday: Higher Carb and Training Day; Higher carb breakfast and lunch, lower carb dinner
Thursday: Lower Carb and Moderate Training Day: Lower carb breakfast, higher carb lunch, lower carb dinner
Friday: Higher Carb and Training Day; Higher carb breakfast and lunch, lower carb dinner
Saturday: Higher Carb and Training Day; Higher carb breakfast and lunch, lower carb dinner
Sunday: Lower Carb and Off Day: Lower carb meals all day
Try out this approach and let me know what you think. Share it with friends and family, and if you have any questions or thoughts let me know!
To your health and performance,
KA
[fusion_text]Whether you are a competitive athlete looking to gain the edge on the competition, or you are a general population athlete looking to feel better, look better and have more confidence, gaining lean muscle mass and losing some excess fat is most likely going to benefit you. 
In order for this to occur you must challenge your body past it's current condition and threshold. 
If you do not, your body has no reason to change.
So the key to continuing progress and transforming your body is what is known as the principle of progressive overload.
You have to continue to challenge your body with a stimulus that surpasses that of its current condition.
The most common way to do so is to add more resistance to the exercise. It is a quantifiable measure that is easy to see progress with…the more weight you are moving = the more your are progressing.
While this is a good and something I do encourage (so yes the title of this article is not completely true), it is not the only way. And I would argue that for some of us, it is not the best way. 
Gaining strength and adding weight to the bar will never hurt…until it does!
Many times we are so focused on increasing the amount of resistance used that we lose focus of the quality of movement, especially for beginners, or when we are trying a new exercise. 
And if you are more veteran to the training game, you will reach a point where the resistance added to the movements will begin to plateau and you will find it very difficult to continue to add weight to the exercises.
At this point there is a greater risk of injury as you will be working more and more closely to your max effort. 
So, instead of always focusing on adding more and more resistance to an exercise, what are some other ways you can progressively overload your body to entice more muscle growth and burn more fat without increasing the risk of injury??
Glad you asked! 
**First a disclaimer: this doesn't mean I am condoning slinging around pink dumbbells and doing reps of 25+ for all eternity.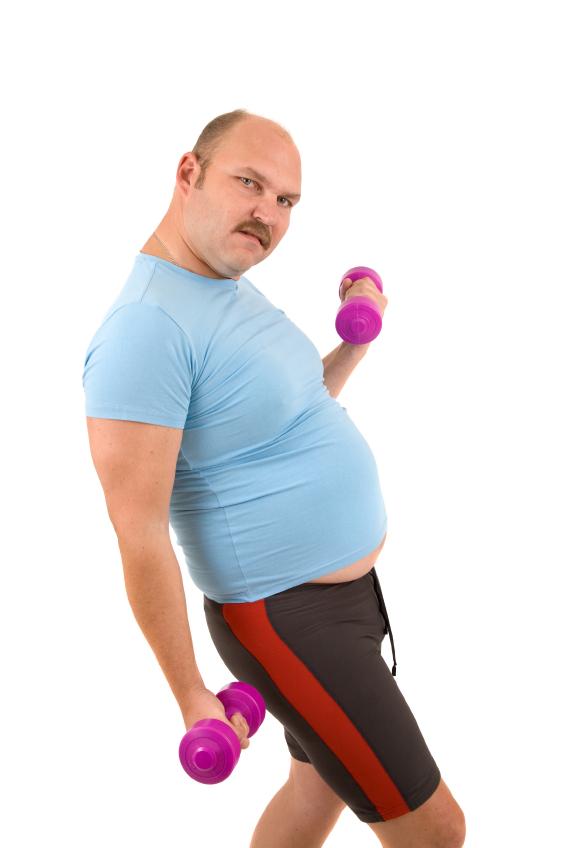 You will find these efforts unrewarding. Being strong, lean and athletic takes more than tricep kickbacks and thousands of bodyweight squats. 
OK, now let's get to it…
Use tempo and isometric pauses
One of the best ways to learn new movements as well as increasing the intensity of an exercise, and therefore challenging the body to progress, is to slow the movement down.
Slowing the movement down gives you more time under tension, or time when the muscles are working. More time under tension results in a greater metabolic environment and hormonal response for muscle growth and fat burn.
Let's take a squat for example. 
Instead of lowering at a regular speed, slow the decent (eccentric contraction) down using a 3-5 second count, or tempo. 
You can also add an isometric hold at the bottom of the squat. Let's say a 2 second hold.
Lastly you can return to the top of the squat with a slower tempo as well (3-5 seconds) or you can explosively return to the top position.
Using tempo and performing a rep over a longer period of times places the muscles under tension for a longer duration. This increases the challenge of the exercise without adding resistance. 
You can add tempo work like this with pretty much every exercise, slowing down the eccentric, pausing at the bottom of the range of motion and then returning to the beginning using a slower tempo, or explosively.
Use rest pause sets
Rest pause sets allow you to move more weight overall and increase volume without adding weight to the bar, or adding an additional set. 
Using the trap bar deadlift as an example, let's say you can perform 6 reps with 225 before you reach technical failure.
(Here is a video where I am using a double rest pause with 335 pounds)
Using a rest pause set you can hit 225 for 6 reps, rest 20 seconds and hit another 1-2 reps.
Or you can use a heavier weight such as 235 or 245 pounds for example and break the 6 reps up into hitting 3 reps, resting 20s and hitting another 3 reps.
Both approaches allow you to move more weight overall than one straight set of 225 for 6 reps.
The extra weight moved again challenges the body more and results in an environment that is more conducive to furthering progress. 
Use drop sets
Drop sets, like rest pause sets, allow you to do more work without adding another full set. 
A drop set consists of hitting an exercise for the prescribed reps (let's say 6 reps of a squat) and immediately reducing the load by 10-30% and then completing as many reps as possible with the reduced load…keeping perfect form of course. 
This again allows you to increase the intensity of the set, and add more volume without increasing the resistance or adding another set.  
Reduce rest
One of the easiest ways to increase the challenge without adding resistance is to reduce the rest period.
If you usually take 45-60s in between exercises, try to rest for only 30s. With the reduced rest you are increasing the amount of work done in a shorter period of time. 
Completing the work in a shorter period of time results in more favorable metabolic and hormonal responses for muscle growth and fat loss.
You do have to be careful though as you don't want to reduce the rest period so much that the movement, or the desired outcome becomes compromised.
This consideration is most critical when you are working with heavier loads (6 reps or less). 
If you are working on gaining strength you will want to take adequate rest…but adequate means just that, ADEQUATE! That doesn't mean sitting around for 3-5 minutes in between each set.
You Don't Always Have to Move More Weight To Progress
A few years ago I would have told you that you must move more and more weight if you want to make progress towards your training and fitness goals.
Building more muscle and burning more fat does not rely solely on moving more weight, especially for beginners and those of us who are more advanced or have a previous injury history.
By utilizing tempo work, isometric pauses, rest pause sets, drop sets or a reduced rest period you will experience continued progress and a reduced risk of injury as a result of not needing to add more and more weight to the bar. [/fusion_text][three_fourth last="no" spacing="yes" center_content="no" hide_on_mobile="no" background_color="" background_image="" background_repeat="no-repeat" background_position="left top" border_position="all" border_size="0px" border_color="" border_style="" padding="" margin_top="" margin_bottom="" animation_type="" animation_direction="" animation_speed="0.1″ class="" id=""][/three_fourth][three_fourth last="no" spacing="yes" center_content="no" hide_on_mobile="no" background_color="" background_image="" background_repeat="no-repeat" background_position="left top" border_position="all" border_size="0px" border_color="" border_style="" padding="" margin_top="" margin_bottom="" animation_type="" animation_direction="" animation_speed="0.1″ class="" id=""][/three_fourth][four_fifth last="no" spacing="yes" center_content="no" hide_on_mobile="no" background_color="" background_image="" background_repeat="no-repeat" background_position="left top" border_position="all" border_size="0px" border_color="" border_style="" padding="" margin_top="" margin_bottom="" animation_type="" animation_direction="" animation_speed="0.1″ class="" id=""][/four_fifth][four_fifth last="no" spacing="yes" center_content="no" hide_on_mobile="no" background_color="" background_image="" background_repeat="no-repeat" background_position="left top" border_position="all" border_size="0px" border_color="" border_style="" padding="" margin_top="" margin_bottom="" animation_type="" animation_direction="" animation_speed="0.1″ class="" id=""][/four_fifth][four_fifth last="no" spacing="yes" center_content="no" hide_on_mobile="no" background_color="" background_image="" background_repeat="no-repeat" background_position="left top" border_position="all" border_size="0px" border_color="" border_style="" padding="" margin_top="" margin_bottom="" animation_type="" animation_direction="" animation_speed="0.1″ class="" id=""][/four_fifth][four_fifth last="no" spacing="yes" center_content="no" hide_on_mobile="no" background_color="" background_image="" background_repeat="no-repeat" background_position="left top" border_position="all" border_size="0px" border_color="" border_style="" padding="" margin_top="" margin_bottom="" animation_type="" animation_direction="" animation_speed="0.1″ class="" id=""][/four_fifth][four_fifth last="no" spacing="yes" center_content="no" hide_on_mobile="no" background_color="" background_image="" background_repeat="no-repeat" background_position="left top" border_position="all" border_size="0px" border_color="" border_style="" padding="" margin_top="" margin_bottom="" animation_type="" animation_direction="" animation_speed="0.1″ class="" id=""][/four_fifth]